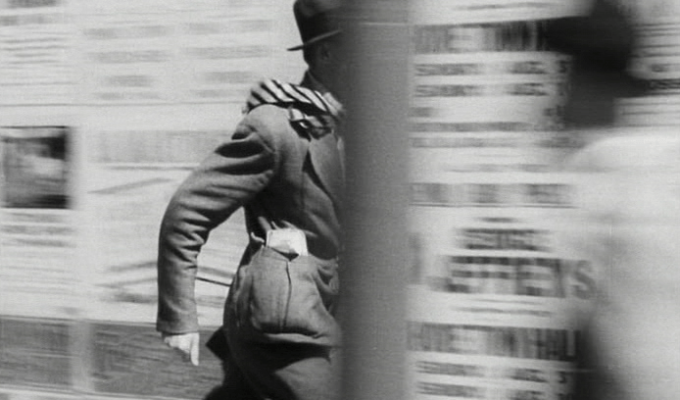 Brighton Rock (2010-2017)
Live cinema, special events and installations celebrating the film that put Brighton on the movie map.
Brighton Rock Unseen (2010)
A special one-off stage and screen re-imagining of Graham Greene's celebrated novel and the 1947 film adaptation that took place at the Duke of York's Picturehouse in Sept 2010 as part of the cinema's 100th birthday celebrations. The UK's oldest purpose-built cinema first opened its doors on 22 September 1910; appropriately Brighton Rock Unseen had echoes of the earliest days of the cinema when the very first screening was a 'Pictureplay', a series of still images presented with live voice and music.
On stage in a new dramatisation of the 1938 novel, 7 actors performed 17 roles to microphone in a live radio play complete with jazz-inflected score performed by a 6-piece ensemble. On the big screen images from the classic 1947 film noir revealed the hidden details and drama behind one of the country's best loved crime thrillers. Featuring scenes deleted from the final film, colour lobby cards, on-set portraits and close-ups of extras and passers-by, the audience was moved from Brighton Rock's recognisable iconography to a less familiar visual landscape. From the opening images of some of the 120 extras employed in the scene at Brighton station, this was a previously 'unseen' Brighton Rock; an exploration of the no-man's land between novel and film, pre-war and post-war, between the imagination and an established classic.
Brighton Rock at 70 (2017)
In 2017, CINECITY presented a series of screenings and special events to celebrate the film that put Brighton on the movie map. John and Roy Boultings' acclaimed 1947 adaptation of Graham Greene's novel has proved enduringly popular and influential, also helping to establish Brighton on screen as a point of no return and a site for crime and violence. The programme included the premiere of a live commission, artists' installation, exhibition and rare screening on 35mm. While many of Brighton Rock's themes have been thoroughly examined over the years, our starting point was an exploration of two key motifs – and physical objects – that run through the film like the proverbial stick of rock: a gramophone record and newspaper front page, both of which featured on the striking collage cover of the novel's US first edition. 
You Want Me To Say I Love You
In a CINECITY commission, Sarah Angliss and Aleks Kolkowski created a new live work inspired by the 'Record Your Own Voice' gramophone record, a key component of Brighton Rock and the film's controversial ending. Sarah Angliss (turntables, theremin, saw) and Aleks Kolkowski (turntables, Stroh violin, phonofiddle, saw) were joined by Bela Emerson (cello, saw) and Stephen Hiscock (percussion) for this UK premiere. The performance also featured instruments and voices recorded onto vinyl by Aleks Kolkowski including readings from 16 and 17-year-olds (the same age as Pinkie and Rose) studying the novel as an A-level set text. With re-worked visuals drawn from the 1947 film, You Want Me To Say I Love You opened the double bill followed by a rare screening on 35mm for the Boultings' classic.
Sarah Angliss is a composer, multi-instrumentalist and sound historian. Known for her skills on Theremin and for the eerie musical automata she's devised and built for use on stage. her work reflects her lifelong fascination with English folksong, faded variety acts and defunct machines. Aleksander Kolkowski is a composer and sound artist who uses historical sound recording and reproduction apparatus and obsolete media to make new music. 
Aleks Kolkowski also led 'Make a Record of Your Own Voice' sessions in Brighton and at Towner, Eastbourne. This was an opportunity for visitors to record personal messages directly onto vinyl using 1940s-style recording equipment. 
Fred's Run
'Hale knew, before he had been in Brighton three hours, that they meant to murder him.' 
So begins Graham Greene's Brighton Rock. In the Boultings' 1947 film adaptation, Fred Hale's run through the streets from Brighton Station is among the most celebrated location filming in British cinema, helping to root the film in a particular place and time. Shot by Harry Waxman using hidden cameras – behind double glass in shop windows, concealed in the back of a van or carried in cardboard boxes – the real and fictional collide as Brightonians are captured going about their business as Fred runs for his life through the city streets. 
FRED'S RUN is a specially edited sequence of still images, sourced from the original print. It was displayed on monitors in numerous shop windows on the route of Fred Hale's iconic run from Brighton Station to Palace Pier. The images reveal hidden details it is not possible to see in a regular viewing of the film with the focus on the extras and passers-by. An earlier exhibition of stills from Fred's Run was presented in Jubilee Square, Brighton in 2012.
With thanks to Canal+ 
See also Looking for Love – Christian Marclay and Fake News: The British Cinema Papers