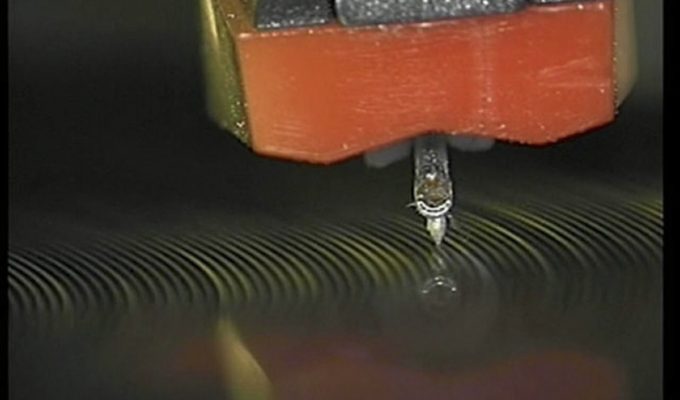 Looking for Love – Christian Marclay (2017)
University of Brighton North Gallery
11 November – 9 December 2017 
Christian Marclay is an internationally renowned artist, musician and composer. He has been experimenting with vinyl records since the late 1970s.
In Looking for Love, the needle of a record player is raised and dropped again and again, searching for the moment in assorted songs when the word "love" is heard. Marclay filmed his performance with a tiny camera used in surgical operations and captures, in sharp detail, his attempts to "look for love" on the record.
"I've always done weird things with records. They have this powerful symbolic value. It is something that is obsolete, yet keeps being appropriated by younger generations. There is a physicality about it that they like." – Christian Marclay 
Over the past 30 years, Marclay has explored the fusion of fine art and audio cultures, transforming sounds and music into a visible, physical form through performance, collage, sculpture, installation, photography and video. In the 1970s, the Swiss-American artist pioneered the use of turntables and records as musical instruments, operating independently of but parallel to hip hop. His many works with vinyl include Recycled Records (1980-86) collages of broken and re-assembled vinyl records still playable on the turntable. He is probably best known for his 2010 installation, The Clock, a cinematic tour-de-force that unfolds on the screen in real time through thousands of film excerpts that form a 24-hour montage. 
As in Christian Marclay's many other works with vinyl, Looking for Love also captures the idiosyncratic qualities of analogue sound like hisses, glitches, skips and scratches. "People who care about records are always giving me a hard time," Marclay says. "I mean, I would destroy records in performances, and break them, and whatever I could do to them to create a sound that was something else than just the sound that was in the groove." For Marclay, vinyl is not about preserving sounds for posterity, a poignant contrast with Brighton Rock where the recording booth became a confessional and the Record Your Own Voice machine reminded Pinkie of fingerprints. Ultimately, it is Pinkie's attempt to destroy the record that causes its own glitch and the repetition of "love" in the film's famous conclusion.
Still from Looking For Love, 2008.
© Christian Marclay. Courtesy Paula Cooper Gallery, New York