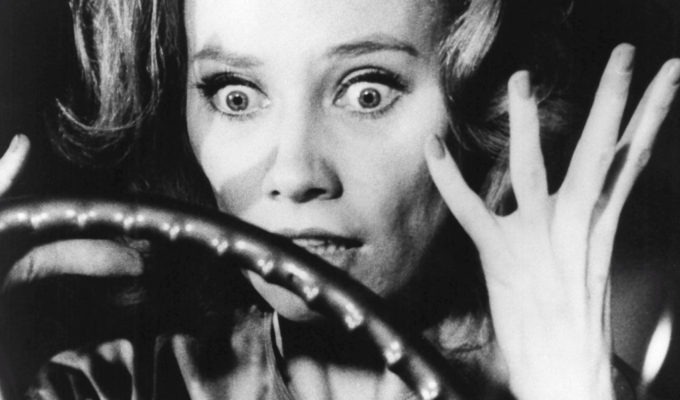 Carnival of Souls + Live Underscore by David Thomas and Two Pale Boys (2011)
Dir: Herk Harvey. With: Candace Hilligoss. US 1962. 80 mins.
Carnival of Souls with a Live Underscore by David Thomas and Two Pale Boys was part of CINECITY Brighton Film Festival 2011.
A true original of low-budget artistry, Carnival of Souls is creepy, bizarre and dreamlike, at times perhaps resembling a lost episode of The Twilight Zone. Candace Hilligoss stars as Mary, who after an accident sets off for another town and a job as a church organist where she finds herself strangely drawn to an old abandoned amusement park. With its crisp black and white photography and bags of atmosphere, frequent late-night TV screenings in the States have helped turn it into a cult classic. Acknowledged by George Romero as an inspiration for Night of the Living Dead, it was also surely seen by David Lynch before he made Eraserhead and Blue Velvet. The only feature directed by Herk Harvey it was made in a 3-week break from his job producing educational and industrial films in Kansas. Harvey and writer John Clifford had their eye as much on the arthouse as the drive-in, aiming for "the look of a Bergman and the feel of a Cocteau".
David Thomas is the founder of the legendary Pere Ubu, an avant-rock group that has exerted a huge influence on countless bands since 1975. "I grew up addicted to Friday night sci-fi / horror flicks. The genre had an incalculable effect on the third generation of Young Rock Giants who emerged in the 70s. Now it's time to honor that debt."
Time Out have described David Thomas and two pale boys as "a gloriously garrulous, diffidently divine, pumping, wheezy, melodeon-driven contemporised avant-folk…Twisted and inspired."