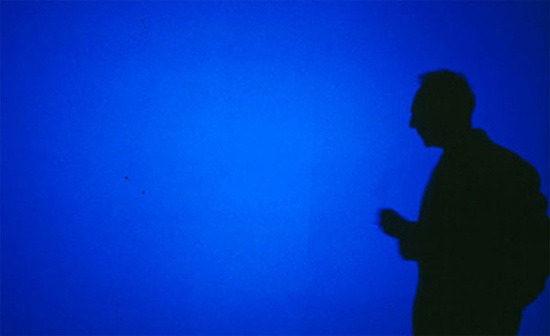 Blue – Live with Simon Fisher Turner and Black Sifichi (2018)
Dir: Derek Jarman. UK 1993. 79 mins.
A one-off live event to celebrate the 25th anniversary of Derek Jarman's landmark film with soundtrack performed live by Simon Fisher Turner and narration by poet and musician Black Sifichi.
With a single static shot of the colour blue, the live sound and spoken word evoke powerful images and provide Blue's narrative and emotional core. The voiceover written by Derek Jarman, features his free associations around the artistic, philosophical and metaphysical meanings of blue — sky, water, flowers, a boy named Blue, sadness, the infinite — connecting them to his life and body of work. As the blue screen glows, the richly layered and evocative sound collage from Jarman's longtime musical collaborator Simon Fisher Turner combined with the live voice to create a unique sensorial experience. A different version of Blue Live was presented at CINECITY on Dec 1st 2010, World AIDS Day.
Derek Jarman's most personal film was made just a year before his death in 1994 from AIDS-related illness. By this stage treatments for the virus made him see everything through a blue haze, prolonging his life but destroying his eyesight.
Simon Fisher Turner is an award-winning UK composer and musician. He collaborated with Derek Jarman on most of his film work and has also scored films for Mike Hodges, Michael Almareyda, and Lodge Kerrigan. Black Sifichi is a Scottish / American spoken word artist and writer born in New York City and who now lives in Paris.