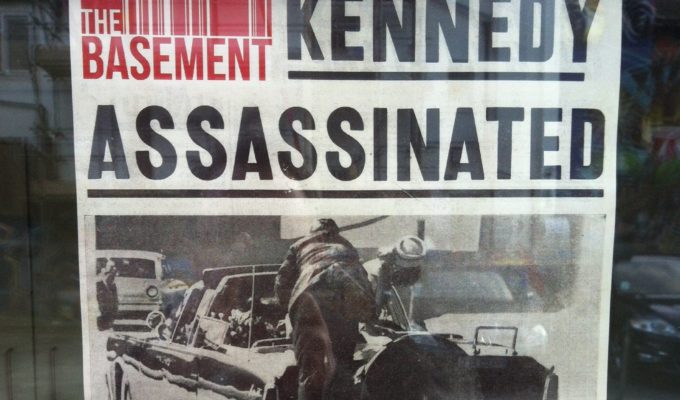 The Assassination of JFK (2013)
Friday 22 November
Various Artists 
50 years to the day since the assassination of President John F. Kennedy, CINECITY and The Basement presented a special edition of Jukebox Fury to mark one of the defining moments of the 20th Century. The evening featured two seminal experimental films exploring the media and public fascination with the death of the president plus tape loops and electronic music from Ian Helliwell, super 8 film and slides, readings, talks, a JFK-inspired playlist and a puppet re-creation of the assassination. 
Films screened included:
REPORT
Dir: Bruce Conner US 1963-67. 13min. 
Made over four years directly after the assassination, legendary found-footage pioneer Bruce Conner uses Walter Cronkite's famous report to guide the audience through the events of November 22nd 1963 via repeated televised images of the assassination.
THE ETERNAL FRAME
Dir: T.R. Uthco and Ant Farm: Doug Hall, Chip Lord, Doug Michels, Jody Procter. US 1975. 24min. 
In an early example of artists' re-enactment – performed in Dealey Plaza in Dallas itself and eliciting bizarre responses from passersby – THE ETERNAL FRAME is a re-enactment of Kennedy's assassination as seen in the famous Zapruder footage, a home movie which found its way into the collective subconscious.