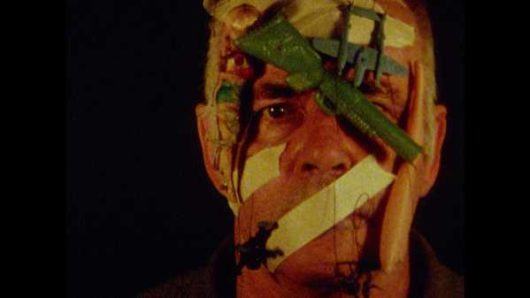 The Artists' Cinema (2012)
University of Brighton Gallery
November – December 2012

For the 10th edition of CINECITY, we created a pop-up ARTISTS' CINEMA in the North Gallery of the University of Brighton presenting a mix of free, looped installations during the day complemented by a programme of evening screenings; there was a blend of past and present as we revisited some key films and artists we have worked with over the preceding decade, coupled with a selection of new work that reflected the diversity of contemporary artists' moving image. Featured artists included Luke Fowler, Laure Provoust, Bill Morrison, Deimantas Narkevicius, Peter Tscherkassky, Karen Mirza & Brad Butler. A Jeff Keen retrospective was screened across the CINECITY film festival in various venues to coincide with an exhibition of the artist's work at Brighton & Hove Museum and Art Gallery.
Looped Screenings
COMING ATTRACTIONS Dir: Peter Tscherkassky
This dynamic, humorous meditation on the relationship between early cinema and avant-garde film explores the 'Cinema of Attractions' and the very different relationship between actor, camera and audience that existed before 'modern cinema'. Tscherkassky detects within advertising and its direct addressing of the audience, a residue of the 'Cinema of Attractions' and so here brings together commercials, avant-garde and early cinema.
21 Nov – 26 Nov
JEFF KEEN
Brighton's own Jeff Keen (1923-2012) was one of Britain's most unique cultural voices, a pioneer in experimental film who transformed art and cinema through a vivid sensibility fuelled by surrealism, comics and B-movies. Wail (1960) The Dreams and Past Crimes of the Archduke (1979-1984) Pulverised Cinema (1990s) Artwar Fallout + Artwar 3 (1992-1995).
27 Nov – 28 Nov 
ELEPHANT: ALAN CLARKE
Made for television in 1989, ELEPHANT is a hard film to categorize. Produced by Danny Boyle for BBC Northern Ireland and first broadcast on BBC2, it is totally unlike what we have come to expect of TV drama. Shot on location in Belfast, ELEPHANT depicts 18 sectarian murders in Northern Ireland during the Troubles. There is no plot, no music, virtually no dialogue and no apparent link between the killings; instead we follow an individual on the way to kill somebody or on the way to their death. Then the same thing happens, again and again. The title comes from a quote by Irish writer Bernard MacLaverty about the Troubles being like having an elephant in the room; it gets in the way of everything but it is also something you get used to and learn to move around. Twenty or so years after broadcast it can now also be seen as a kind of proto artists' cinema and has a clear lineage to and influence on a range of contemporary artists' work. Gus Van Sant acknowledged the influence of Clarke's film not least by borrowing the title for his 2003 Palme d'Or winner based on the Columbine High School massacre.
29 Nov – 1 Dec
Evening Screenings
BANG! Dir: Matthew Noel-Tod + ULTIMATE SUBSTANCE Dir: Anja Kirschner and David Panos
DEEP STATE Dirs: Karen Mirza & Brad Butler 
RESTRICTED SENSATION Dir: Deimantas Narkevicius
THE CURATOR'S TALE by Keith Kennedy
The last years of radical photographer, Jo Spence (1934-1992), described in words and images, in a staged reading by David Puddifoot and Janet Bettesworth.
EXPERIMENTAL AMATEURS
A programme of rarely-seen shorts curated by Ian Helliwell, highlighting grass roots, self-funded and autonomous experiments with image and sound. 
THE POOR STOCKINGER, THE LUDDITE CROPPER AND THE DELUDED FOLLOWERS OF JOANNA SOUTHCOTT Dir: Luke Fowler
Turner Prize nominee Luke Fowler's work explores the role played by left wing intellectuals in the working-class communities of post-war Yorkshire. 
THE WANDERER Dir: Laure Prouvost
Based on a script by artist Rory Macbeth who, without any knowledge of German, translated a Franz Kafka novella into English. 
MINERS HYMNS Dir: Bill Morrison
The history and legacy of the mining community of Durham explored through a collage of archive material spanning 100 years.