Subscribe to news feed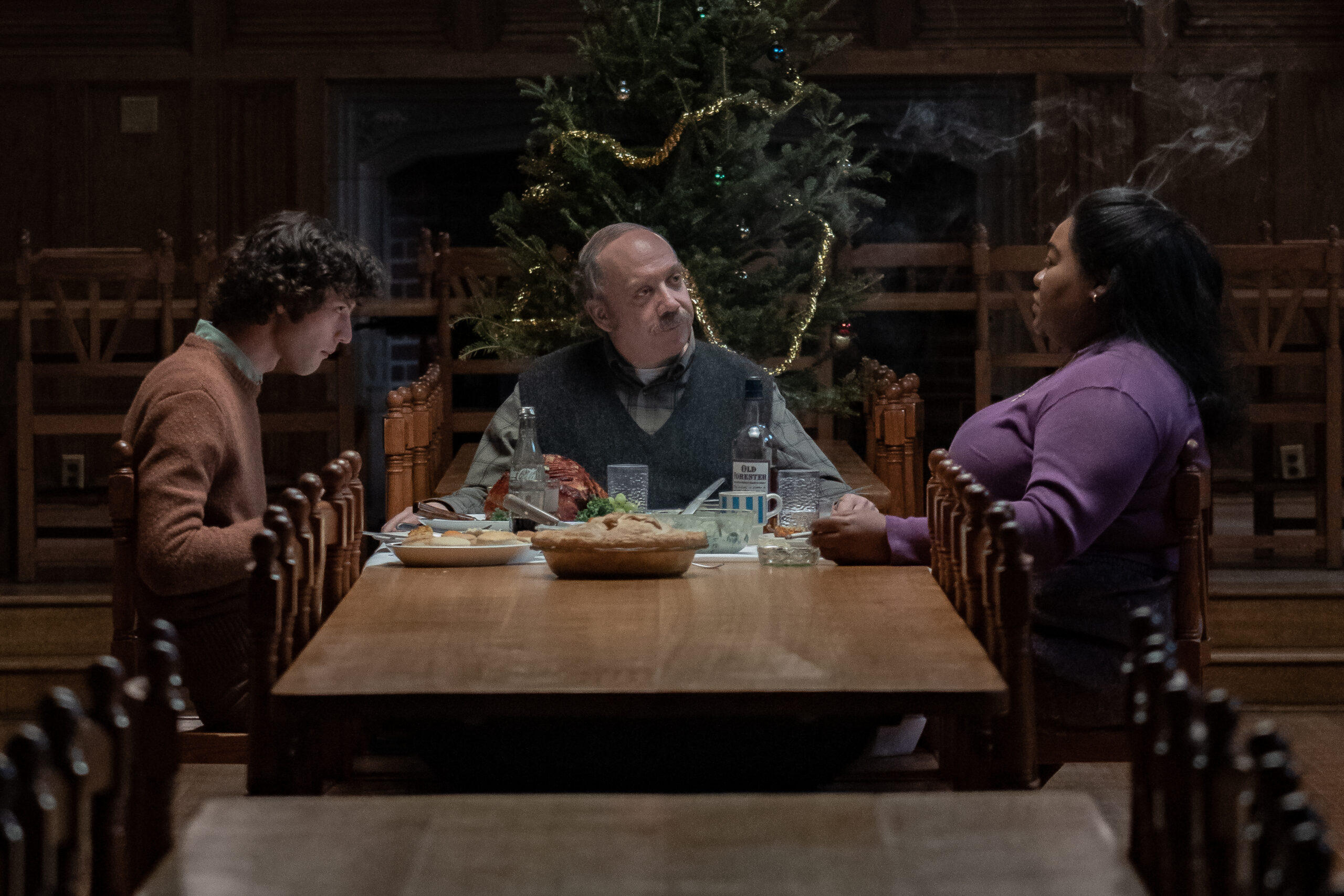 STUDENT REVIEW: THE HOLDOVERS
by Ben Packer (University of Sussex)
Reviewed as part of CINECITY The Brighton Film Festival – Duke of York's 17 Nov 23.
The Holdovers – a manifestation of the warmness of Christmas, despite the bitter cold outside. A self-contained, character driven story that balances relatable pessimism and the wisdom that underlies it as the unlikely trio of a curmudgeonly teacher, troubled student with defences up and grieving head chef form a bond, as they all experience a different kind of loneliness at a time where that feeling could not be more apparent: Christmas.
To call this a "Christmas film" may be misleading. It is better described as a film set at Christmas and that is a genius choice to serve the themes. An event such as Christmas comes with hopes, expectations and pressures for happiness and spending time with family, so for our characters to be forced into the same boat of staying at boarding school over Christmas, it could not be easier to empathise with the frustration and misery they feel in isolation. This premise is perfect for gradually peeling back the layers of the characters as their defences fall away and connecting through their hardships gifts them valuable lessons, which we get to experience through amusing and touching chemistry. The sharp, witty screenplay written by David Hemingson manages these gradual arcs and emotional revelations with ease, sometimes with subtle dialogue suggestive of the past, other times through profound words which speak the core themes of the film through the fully fleshed out characters, as well as a realistic plethora of profanity which I found very funny and relatable.
Much of the comedy and emotion comes through the marvellous Paul Giamatti, with a face so expressive it appears almost mouldable, he nails every comedically brutal put down and insult, hilarious moments of subversive silence when his character should probably be being more thoughtful and deeply touching climaxes of emotion that his subtlety keeps realistically contained as he radiates life experience and empathy with simple looks and lines. He disappears into this role. He is supported superbly by Dominic Sessa in his debut film role,  who has the challenge of portraying material wealth but familial misfortune which emotionally fuel his actions. The scenes they share are the heart of the film and their patiently built chemistry and understanding of one another is where the film thrives emotionally, as well as comedically. Da'Vine Joy Randolph must also be commended for her portrayal of muddling on through life when tragedy has taken an almost unbearable amount from you. I truly felt for her character and adored the assertiveness you can constantly feel from her on standby.
Alexander Payne helms the film not only with ease but with a subtle voice that never allows the handling of the emotion to go over the top, maintaining a relatable realism that makes the themes that much more potent. Messages of resilience through hardship truly touched me with the endearingly simplistic ending. Payne also goes to great lengths to immerse you in the 1970s setting, with a celluloid aesthetic, wipe transitions and even traditional studio logos, making the entire experience transportive.
The Holdovers is a wonderfully empathetic film, warm in spite of bitterness and uses its Christmas setting to emphasise its emotional themes which the actors embody beautifully, bringing tears and laughter to what is typically, for better or worse, the most magical time of the year.
Instagram: @bensflickpick
Letterboxd: benpacker