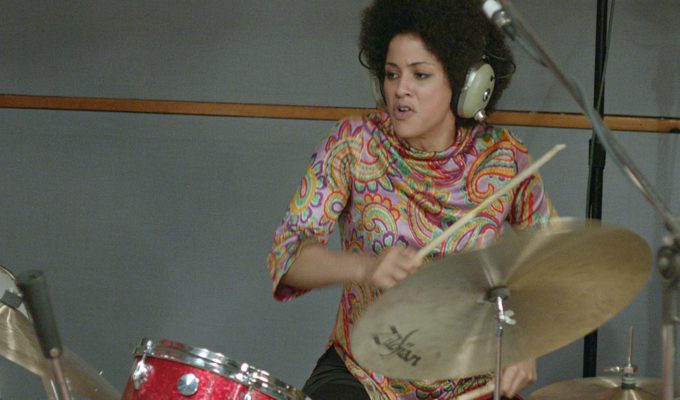 Luanda-Kinshasa – Stan Douglas (2017)
Presented as a cinema installation for the first time in the UK, the viewer could enter at any point during Stan Douglas' 365-minute film and stay for as long as they wished. 
Luanda-Kinshasa is Stan Douglas' vibrant depiction of a fictional 1970s jazz-funk band. It is set in a reconstruction of Columbia Records' legendary New York studio The Church, which played host to some of the most well-known recordings of the 20th Century, including Miles Davis' Kind of Blue (1959), Bob Dylan's Highway 61 Revisited (1965), as well as albums by Johnny Cash, Aretha Franklin, Billie Holiday and many more. Documenting a fictitious recording at the famed studio, Luanda-Kinshasa explores Douglas' interest in the African origins of the early 70s New York music scene. The cast of stellar musicians led by jazz pianist Jason Moran, cycle through jazz, funk and afro-beat motifs in joyous cohesion. Context is provided by the fashion styles, musical equipment and drinks labels, while newspaper headlines offer a subtle reminder of the outside world.
Luanda-Kinshasa draws inspiration from Jean-Luc Godard's film portrait of the Rolling Stones, Sympathy for the Devil but is also part utopian vision of multi-cultural collaboration and part homage to Miles Davis' electric masterpiece On the Corner; Douglas extends the revolutionary loop and multi-track editing of the original album to create what he calls "a geiser of music" – where ten minute improvisations are edited into a 6-hour jam session of epic proportions. The musicians in the video were selected by jazz pianist and composer Jason Moran, who plays alongside Kahlil Kwame Bell, Liberty Ellman, Jason Lindner, Abdou Mboup, Nitin Mitta, Antoine Roney, Marvin Sewell, Kimberly Thompson and Burniss Earl Travis.
Stan Douglas (1960) is based in Vancouver. He has exhibited internationally, including Documenta IX, 1992, Documenta X, 1997, Documenta XI, 2002 and the Venice Biennale 1990, 2001 and 2005. His film and video installations, photography and work in television frequently touch on the history of literature, cinema and music. Making frequent use of both analogue and digital technologies, Douglas appropriates existing Hollywood genres and borrows from classic literary works (notably, Samuel Beckett, Herman Melville, and Franz Kafka) to create ready-made contextual frameworks for his complex, reimagined narratives that pertain to particular locations or past events. Major museum collections which hold works by the artist include the Centre Georges Pompidou, The Museum of Modern Art, New York, Guggenheim Museum, New York; Tate, London. 
Stills courtesy of the artist, David Zwirner, New York/ London and Victoria Miro, London.