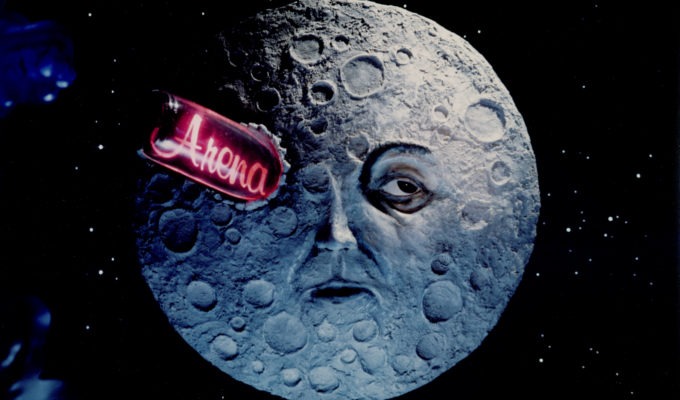 Arena: Night and Day (2015)
An exhibition exploring the legendary BBC arts documentary series, Arena.
2015 marked Arena's 40th year on air since the first episode was broadcast on the BBC in October 1975. The body of work that has amassed since then – over 600 original films – is one of the most significant film archives of late 20th century culture held anywhere in the world.
The first gallery introduced Arena with extracts and artefacts from its 40 year history. The second gallery presented Arena: Night and Day, a 24-hour visual journey which could be viewed from the street at all hours and within the gallery during opening hours.
Night and Day is sourced entirely from the unique treasure trove that is the archive of Arena, the world's longest running arts documentary series. It has no beginning, no middle and no end, simply the time you choose to start watching, how long you stay watching and the time you choose to leave. Its narrative is simply that of night and day itself, edited to a precise audio-visual experience of the times and date on which its screened. The Arena archive seems to provide an inexhaustible supply of scenes from all over the world and protagonists who range from ordinary people to some of the most famous of the past century – Mandela to McCartney, Amy Winehouse to Catherine Deneuve, Johnny Rotten to Antonioni.
There is nothing, absolutely nothing, which can match Night and Day by Anthony Wall and Emma Matthews, a 24 hour compilation of Arena's back pages which provides, as well as anything can, a tangential history of the past 40 years and reminds us how vital and supple a medium TV can be when it is freed from moronic formulae. – Jonathan Meades, The Guardian.
Presented by CINECITY in partnership with BBC Arena and the Series Editor, Anthony Wall. Supported by Arts Council England.
Arena: Night and Day (2015): Directors: Anthony Wall and Emma Matthews
Online Producer: Alex Jones. Research: Isobel Goodrich. Archive Producer: Andrew Wright. Film Editor: Emma Matthews.